In brief tranquil moments when the senses are relaxed and responsive,
when the heart is easy and the mind is light,
we can hear the voice of silent space speaking....
Awareness responds, and the blessing of healing and knowledge flows forth.
-Tarthang Tulku


GOT STRESS? REST, RELAX AND REJUVENATE WITH A MASSAGE
STRESS: A six letter word that we hear way too often. The truth is that everyone has stress, whether it is from school, home, work, or just life. The goal is to manage that stress so our bodies do not become damaged from prolonged exposure to stress. Stress is exhausting mentally and physically. Over time our bodies start to rebel and shut down. Symptoms of pain, discomfort, digestive problems, and high blood pressure can become serious medical issues. The best way to combat stress is to take time for yourself to do whatever it is that allows you to relax and reconnect with your body (hint: get a massage), which can be hard in a culture and lifestyle that encourages being on the go!


THE EFFECTS OF STRESS ON THE BODY
Stress has many short term and long term effects on the body. While our body is designed to protect itself from a dangerous and stressful situation via the fight or flight response, long term exposure to constant stress has many negative health effects and can potentially lead to chronic health problems. By decreasing the stress in our lives we can decrease the risk of many diseases and health problems. The table below provides a basic list of the effects of stress on the body: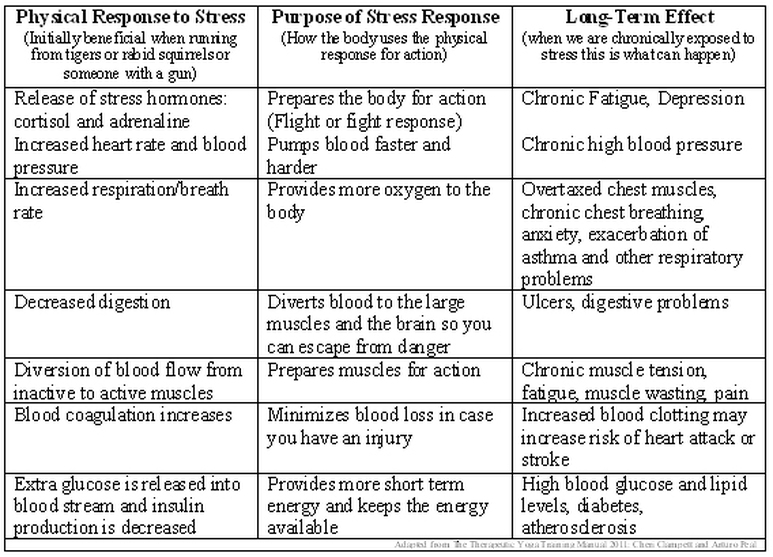 MASSAGE THERAPY AND STRESS REDUCTION
Massage can help you achieve relaxation and therefore reduce stress. It can break up the stress response that becomes a habit built into your body memory. Stress is kind of like riding a bike, once your body learns to function in a stressed state it becomes second nature and over time you forget what it is like to be relaxed. During a massage muscle tension is released, circulation is increased and your body is able to relax. Regular massage can help break the cycle of constant stress and increase your quality of life.
How it works:
Massage decreases stress hormone levels which helps the body relax and get out of a flight or fight stress response. By releasing endorphins and decreasing stress hormones massage assists in relaxation and your ability to enter a calm relaxed state with decreased heart rate, decreased respiration rate, increased digestion, and increased blood flow to all body systems. The reduction of overall stress levels on a regular basis through massage helps to reduce the long term effects of prolonged stress.
Being in a state of deep relaxation is a difficult place for many people to reach, but here are some signs you are relaxed during and after a massage:
Deep breathing and decreased respiratory rate

Loss of time

Feeling of release from pain in muscles

Decreased heart rate

Growly stomach: Have you ever had a growly stomach while getting a massage? Don't worry, it is perfectly normal. It is your body's response to relaxation. When you are relaxed your body is able to direct its energy towards digestion and taking care of itself.

Light-headedness or dizziness after the massage

Feeling of being taller

Post massage "high"

Feeling rejuvenated, energized, and relaxed

Snoring

Additional Reading on Massage and Stress:
Studies Conclusively Show Massage Therapy Reduces Stress
Massage Therapy Shown to Reduce Stress, Enhance Well-Being
Massage and Bodywork for Stress Relief
Massage and Stress: Understanding the Research
A Meta Analysis of Massage Therapy Research
Benefits of Touch Therapies
SELF CARE IDEAS FOR REDUCING STRESS
Learn to recognize signs of stress in your body: We all have individual stress symptoms, which may be shoulder or neck pain, shallow breathing, teeth gritting/grinding, upset stomach, quick temper, impatience, frustration, increased heart rate/blood pressure, etc. By identifying how stress makes you feel you can say "I'm feeling stressed," and work towards treating the symptoms.

Take a deep breath: Place one hand on your abdomen just below the navel. Take a long slow breath in through your nose and feel the hand move out on your abdomen as your belly expands. Exhale slowly. As you exhale allow your body to relax and the stress to leave your body. Repeat a few times.

Self massage: When you can't come in for a massage take a few minutes to massage your hands and feet. Apply pressure to any areas you feel knots or stress being built up. Breathe into areas where you feel stress or pain. On the exhale let the stress and pain go.

Exercise: Exercise is a great way to relieve stress. It can be as simple as taking a few minutes to stand up, do a few stretches and shake out the stress. Some exercise ideas:
· Take a walk
· Practice yoga, Pilates, Qigong, or Tai Chi
· Run
· Take classes at your local gym
· Lift weights

Take time for yourself: This can be to exercise, sit in a quiet room, listen to music, meditate, breathe deeply, take a hot bath or shower, or anything else that helps you relax and take care of yourself. While an hour a day would be ideal, as little as 15 minutes counts.

Just say no: We frequently try to do everything and please everyone. Set clear limits for yourself and others.

Visualize calm: Find a comfortable place to sit or lie down. Close your eyes and take a few long slow breaths. Picture a relaxing scene or your favorite place to be. Focus on the sights, sounds and smells. Allow yourself to let go and be in the moment. Before opening your eyes take a deep breath and slowly come back into your current surroundings. Another way to do this is through a guided meditation CD or having someone lead you through a guided meditation.

Write it down: Make a list of things that you feel make you stressed or anxious. Make a plan to change the ones you can change and allow yourself to stop worrying about the ones you can't.

Sleep: If you can't fall asleep or wake up thinking and worrying give yourself permission to think about it in the morning. Sleeping helps your body rejuvenate, relax, and reduce stress.

Healthy eating habits: Eating well balanced meals with lots of fruits and vegetables helps your body get the nutrients it needs to feel healthy and energetic. Eating well also helps your digestive system process food and decreases your risk of many health problems that can cause additional stress.

Positive thinking: By staying positive you are less likely to worry about life, which leads to decreased stress and anxiety.

Smile: :)